5 Easy Ways to Dress Up Your Pup on Halloween
The annual Halloween season is upon us again, many funny and goofy pet Halloween costumes can be found everywhere in the market now. Lots of pet parents are likely to purchase this kind of product to show off their pooches' cuteness and enjoy this festive atmosphere a costume helps create. But one point might make pet owners feel hard to accept, but need to keep in mind that, most dogs hate the costumes. Inappropriate pet costumes will make Halloween become the spookiest season for pets in a real sense.
Why some dog doesn't like Halloween costumes? On one hand, most Halloween costumes are often not designed for comfort and would focus on the effect it takes in scary, cuteness, and funny instead. Meanwhile, the additional clunky accessories on pet costumes will cause an extra burden on the dogs, like wings, hats, and cloaks. This accessory part is easily making the costume more cumbersome for dogs, which not allows them to walk at ease. On the other hand, The limit from movement is brought by some weird and spooky design. Sometimes, it also brings inconvenience for dogs to go to the bathroom.
However, your dog still can get into the atmosphere of this festival without these uncomfortable Halloween costumes. Bella & Pal collects several good ideas to make your dogs look festive on Halloween and won't get stressed out.
1. Halloween Dog T-shirt.
Eliminating those costumes with terror and clunky pet costumes, you can select some dog T-shirts made of soft fabric or lightweight texture. Or even you can be a designer to make a customize costume which tailors for your fur baby. But one point should be noticed, never neglect our doggy's wearing feelings just for fun. And make sure you have measured the size and check the size chart if purchasing online.
2. Halloween-themed Dog Bandanas.
Compared to various pet costumes, the dog bandanas are relatively less restricted in terms of the pet's movement. The bright colors and luminous pattern are easier for the dog to be spotted in the low night condition to prevent it from losing. Currently, most dog bandanas on the market are adopting a simple design, the pet owner can adjust the dog bandanas to fit different sizes of dogs by folding them, very easy to wear.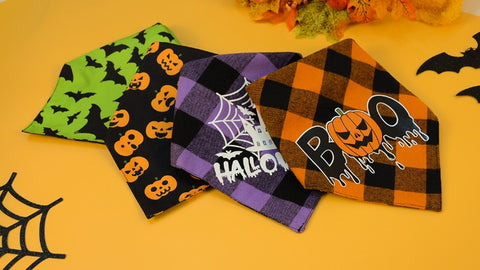 (BELLA & PAL Halloween Dog Bandanas,
 

shop now >>)

 

3. Dog Collars.

A collar with Halloween elements will also be a good outfit to dress up your furry pal. Not only make your dog can look festive, but also can prevent the dog from running away when getting scared by the spooky decorated surroundings. Besides, Even if you have leashed your dog, still don't forget to hang on the ID tag on it to prevent unexpected situations.

4. Dog Glasses.

A small prop but an accessory to can let your sidekick be the coolest four-legged creature on the block. It is usually one of the popular accessories for pet owners who like to take photos. It is lightweight and will not cause too much pressure on the dogs in general.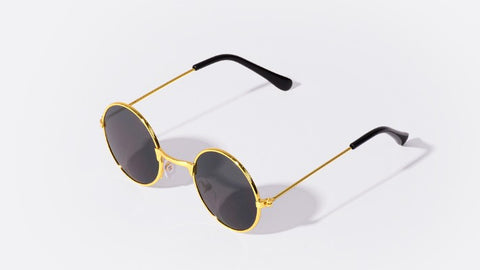 (BELLA & PAL Tinted Lens Dog Glasses - Black,
 

shop now >>)

5. Dog Bow Ties.

Another lightweight and elegant alternative for dog bandanas. And it is easy for pet owners to make it by themselves. You can follow up the steps on social media to learn to make a Halloween bat bow tie for your furry pal. Without spooky and funny costumes, a bow tie also can make your pooch to be the most eye-catching four-legged creature in the crowd.

In conclusion, not all dogs will have the same reactions to the same things. When it comes to dressing up festive accessories, some dogs love it, while others don't. Although the dog can't speak, but fortunately, dogs have a lot of visible body language that allows us to recognize if they really enjoy doing something, such as smiling, wagging their tails, and purring. On the contrary, it will also release signals to remind us when it hates doing something. If the dog tries to escape, rub on the floor, bark, or appear with other reluctant signs while dressing up, help them to remove and don't force them again. Hope this blog can help many pet owners and their dogs to spend an interesting and pleasant Halloween. If you want to learn more about pet guidelines on Halloween, 

Halloween Stress-free Guidelines for Dogs
---